FYI...my posts may contain affiliate links. This means that if you click on those links and make a purchase, I will receive a small commission at no cost to you. And those commissions are what makes it possible for me to blog. Thank you!
With the craziness of the holidays, I not only forgot to post our Missouri meal of Cashew Chicken—eaten back in the end of October—I forgot we even <![CDATA[With the craziness of the holidays, I not only forgot to post our Missouri meal of Cashew Chicken---eaten back in the end of October---I forgot we even apple and pumpkin season, year end book challenges, and Christmas stress basically took over my blog and my life.
Why Cashew Chicken for Missouri????
A little known fact…Springfield Missouri is the cashew chicken capital of the United States. In Springfield in 1963, a man named David Leong invented Springfield-style Cashew Chicken. He initially created the dish at the Grove Supper Club by combining traditional Cantonese cooking with some Ozark flavor.
The result was what would be known as Springfield-style Cashew Chicken which was so popular he opened Leong's Tea House. This version is not to be confused with regular cashew chicken which is not deep fried, but stir fried instead.
Needless to say, I breathed a sigh of relief when I realized we didn't need to have any Ozark style squirrel potpie or roasted possum or fried catfish or anything like that for our Missouri meal. We could have cashew chicken—a meal no one in the house would refuse.
First, the Sauce
Since we made this meal nearly three months ago, I'm afraid I'm not sure whether the cooking process was easy or complicated. I do know that I didn't burn anything and that the meal itself was well received. I have some pictures if that helps:
This is me…making the cashew chicken sauce which is the star of the meal.
You start off by boiling half the water and add the boullion. Then, you stir in cornstarch, oyster sauce, and sugar into the other half. I must have followed directions correctly because I do not recall any mishaps with missing water or anything, although I can see how that could reasonably happen…with me.
After that, add the mixture to the boiling water and stir constantly until it boils again. The sauce will be thicker.
Then, the Chicken
While the sauce is cooking, chop up the chicken into cubes. Flour them, coating well. Break up the eggs in a bowl and whisk. Stir in milk, salt, and pepper. Add chicken to egg mixture and coat well.
Heat oil in a pan and make sure the pan is hot enough before frying chicken.
Meanwhile, add more flour to a plate. Dredge the chicken pieces in this flour before frying them.
This part I remember—it took quite awhile to fry all the chicken and there was a smoke condition in the kitchen at one point because I used vegetable oil and you definitely want to use peanut oil because it has a higher smoking point. I really don't know what that means, but the recipe I used mentioned something about a smoke point and I dismissed it. I did regret that when I had to clean the pan between each batch of chicken.
While the Chicken is Frying
Chop up the green onions and the cashews for the sauce. Also, now is a good time to make rice for your meal (as long as your chicken isn't burning). When it is all done, assemble it on your plate—rice, chicken, sauce, cashews and green onions: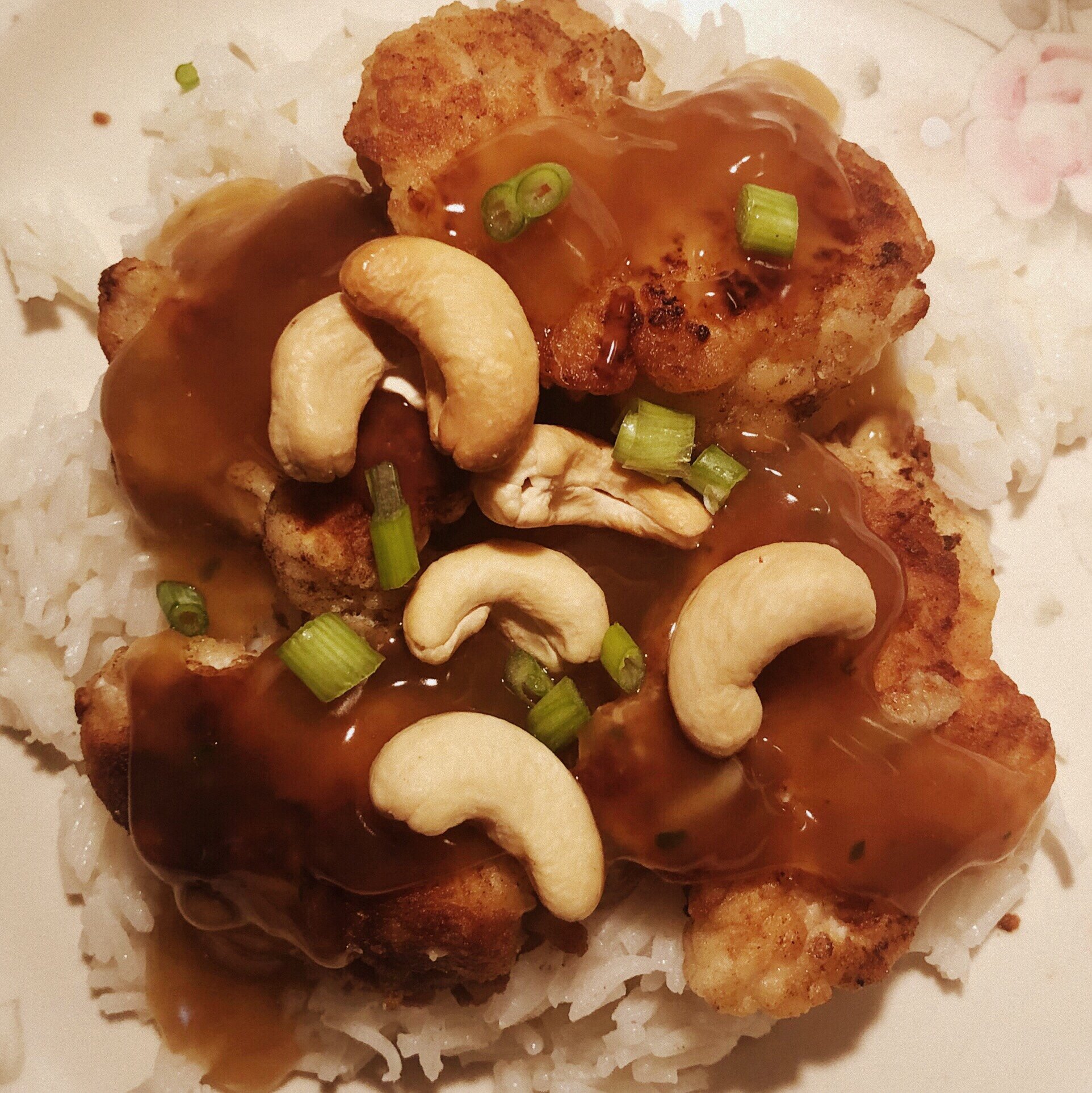 I chose to leave the cashews whole, but you can chop them up if you'd prefer. While the fam weren't fans of the cashews (which is why I  didn't chop them—easier to pick off), the meal was really delicious and everyone had second helpings. At least, I think they did.
Anyway, we'll be adding this meal to our "do-it again" recipe file. You should try it out and let me know what you think!
3 c. water (divided)
2 chicken boullion cubes
6 TBSP cornstarch
1/4 c. sugar
4 TBSP oyster or soy sauce
2 lbs of boneless, skinless chicken breasts
3 eggs
1/2 c. milk
1/2 tsp. salt
1/2 tsp. black pepper
2 c. flour
green onions
cashews
Peanut oil for frying